Our cultural blueprint
By not only investing in experienced and talented people but also in providing an infrastructure and environment that sponsors personal development and continuous improvement, UTB strives to create a cultural blueprint encompassing our purpose, vision and values.
Purpose
Our purpose is to build a dynamic specialist bank that delivers solutions for our customers which help them achieve their ambitions and to support our people so they can thrive.
Vision
Our vision is to be a respected, resilient and profitable specialist bank, which employs outstanding people and balances an enterprising and innovative spirit with a commitment to long-term sustainable growth. Our people are professional, engaging and progressive and have the freedom to operate to deliver excellence in everything we do. Our expertise and experience helps our customers to fund business growth, build new homes, invest in properties, buy their own homes or grow their savings. Our differentiators are the quality of our people, our transparent and supportive culture, deep product specialism, risk management, pragmatism and our willingness to be accessible and work collaboratively with clients.
Culture
We recognise the importance that culture and values play in the success and sustainability of the Bank, and work to find ways of ensuring they are communicated and embedded throughout the business.
Our values encourage and support diversity and inclusion at all levels of the Bank, helping the communities in which we operate and reducing our environmental impact. They are consistent with all the Bank's policies, practices and behaviours. We care about the prosperity and wellbeing of our people, customers and other stakeholders and endeavour to make a positive impact on our community and the environment.
We are guided by our core values:
Customer focus
We empower our people to work thoughtfully, flexibly and closely with our customers and brokers to help ensure their success. In addition, we use technology to enable exemplary service.
Responsibility
We act responsibly and seek to support projects that are financially, socially and environmentally sustainable.
Teamwork
We work collaboratively and inclusively with colleagues, brokers, customers and professionals. We value diversity and welcome multiple perspectives, to create a friendly and rewarding culture in which everyone's opinion is heard.
Integrity
We build strong, enduring relationships based on the highest standards of open, honest and transparent dialogue.
Tenacity
We empower and encourage our people and give them freedom to operate to find solutions and overcome obstacles to deliver commercial results.
Celebrating success: what our people say about working at UTB.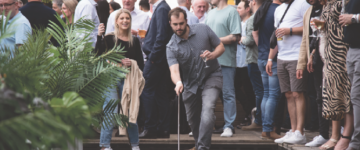 Employee Benefits
Working for UTB means it has to work for you too!

Get a flavour of the many events and activities across the Bank..