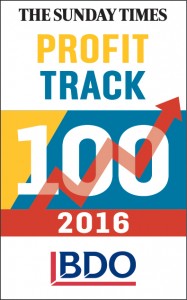 United Trust Bank has been placed 25th in the 17th annual Sunday Times BDO Profit Track 100 league table which ranks Britain's fastest growing private companies.
The league table and awards programme is sponsored by BDO and UBS Wealth Management, and is compiled by Fast Track, the Oxford-based research and networking events firm.
United Trust Bank is an expanding specialist bank providing a wide range of secured funding facilities for individuals and businesses and deposit accounts for individuals, businesses and charities.
Earlier this year United Trust Bank reported a 67% increase in profits after tax to £12.3m for the year ending the 31st December 2015.
The specialist bank increased lending by 48% to £434m, operating income rose 34% to £31.6m and customer deposits grew by 46% to £476m. Return on equity was an impressive 32%.
With dedicated divisions providing asset finance, bridging finance, development finance, professional loans, technology finance and specialised mortgages, the Bank's in-depth knowledge combined with commercial awareness makes it the lender of choice for finance brokers, developers and individuals seeking a high quality bespoke service.
During 2015 UTB saw growth in lending across all of its divisions and launched a retail mortgage proposition, offering second charge secured loans, and an innovative technology finance product.
United Trust Bank Chief Executive Officer, Graham Davin, commented:
"We are delighted to have been included in this list of the UK's fastest growing private companies. We have developed the business considerably in the last four years with significant growth in lending.
"United Trust Bank is guided by a talented management team and driven by its dedicated staff. I would like to thank them for their continued hard work and commitment and also thank the brokers and intermediaries which support the bank. It's our team and our customers which make United Trust Bank such an outstanding and successful business."
Stuart Lisle, partner at BDO, the title sponsor of the league table, commented:
"Medium-sized businesses across the UK are thriving, creating one in four jobs and responsible for one third of the country's total revenue. They are seizing the opportunities a recovering economy presents and the most profitable have remained focused on sustainable growth through investment in innovation, diversification and overseas expansion."
The supplement which you can read here is Reproduced by permission. Copyright The Sunday Times BDO Profit Track 100