THIS MONTH'S WISE OWL | Gráinne Gilmore – Zoopla


Gráinne Gilmore is Head of Research at Zoopla, where along with the Research & Insight team, she produces market-leading property analysis and insights on all aspects of the sales and rental markets. Prior to joining Zoopla in 2020, Gráinne was Head of UK residential research at Knight Frank for 8 years, and before this she was an economics, business and finance journalist at The Times.
The New Year is typically a busy time in the housing market, as homeowners and prospective buyers use the Christmas period to reflect on whether they'd like to be celebrating the festive season somewhere else in 12 months' time.
After the record levels of buyer demand in 2021, spurred by the pandemic-driven 'search for space' and the stamp duty holiday, a more muted start to 2022 would have been understandable.
The opposite was true.
As we predicted throughout Q4 last year, the pandemic-led trends in the housing market have further to run – not least the change in working practises for many office-based workers, opening up new markets for those who are no longer undertaking a daily commute.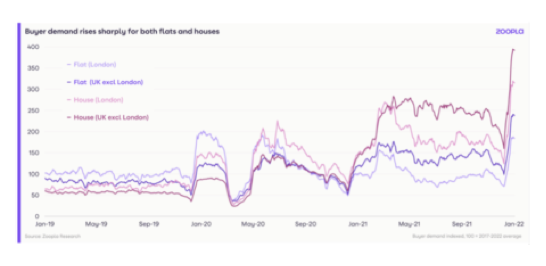 Demand for family houses hit a five-year high in January, and demand for flats around the country also rose to levels not seen since before the pandemic.

The increases in property values over the last two years are also leading many to consider crystallising their gains. More than 6 million homes around the UK rose in value by more than £30,000 in 2021 alone.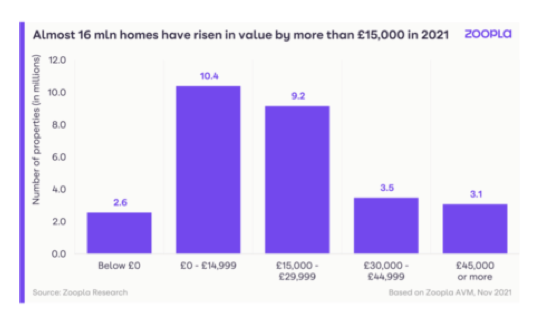 Yet amid soaring demand, there has been a shortage of supply of homes for sale. The sheer level of activity in the market last year, with 1.5 million homes changing hands, quickly eroded stock levels, and increased interest from buy to let investors and first-time buyers (who have nothing to sell) put more pressure on stock levels and also pushed up prices, with UK house price growth at +7.4% at the end of 2021.
In the new homes market, high levels of demand resulted in more forward sales, as homes, especially family houses, were snapped up.
Activity in the market so far in 2022 is tracking 2021 levels, and the imbalance between supply and demand will continue to put upwards pressure on pricing.
However, there are greater economic headwinds ahead this year, not least the rise in mortgage rates that is widely predicted as the Bank of England continues to raise the base rate to combat rising inflation. Affordability constraints will also limit price growth in some areas. Overall, we forecast that average values will rise +3% in 2022, with more growth coming in areas where homes are more affordable – in the Midlands, the North and Wales.
The new homes market is also facing an additional change – the end of Help to Buy. This will effectively come into force in the autumn as sales after this point may not meet the final deadline of April 2023.
However, the current conditions in the market – specifically the rise in the value of homes over the last two years, signal there may be increased opportunity in the new homes market to appeal to downsizers.
Our new research, examining data from Zoopla, and Your Keys – Zoopla's sales progression tool – shows that buyers in older age cohorts (who are most likely to be considering moving to a smaller home and releasing equity) are still looking for sizeable properties, and that they are willing to move further to achieve a purchase of a new home that meets their needs
To hear more about this trend for 2022, have a listen to Zoopla's podcast, where I spend 20 minutes or so chatting to James Holmear of Redrow and Alex Rose, Head of New Homes at Zoopla, about this opportunity. At the same time you can also download the latest New Homes research report on the downsizer market.