THIS MONTH'S WISE OWL | Hugh Gibbs – SearchLand



Hugh Gibbs is one of the co-founders of a planning and property due diligence platform, SearchLand. Central to the land sourcing functionality of SearchLand is the ability to allow small and medium sized housebuilders to integrate technology into the way their businesses operate. Hugh has worked in both public and private sector planning roles and applies strong data analytics and visualisations to all his work.
An effective method for sourcing and obtaining sites is critical to the success of any property developer. Starting construction on a new-build is far from the first step in the development pipeline – before the first plans can be drawn up, developers need to source the perfect parcel of land to build on.
There are lots of ways to find the right site, and while many suitable plots are publicly listed, the options when shopping off-market are even greater still. Existing settlements often have pockets of unused land that are ideal for new structures, and even large neighbouring back gardens can be combined into one new lot.
The process of site sourcing has begun to evolve in recent years, but many developers are still relying on inefficient, manual methods for sourcing offmarket sites. This results in a significant drain on time and resources and leads to many sites with high potential being overlooked and going undeveloped.
The challenge of sourcing the right site
Locating a potential off-market site might seem easy enough – pick an area, pore over maps (some even explore on foot) and begin trying to spot parcels of land that have the necessary dimensions and scope for development. However, every developer knows the headaches that come with this process, and that is down to the huge amount of information required to inform a decision.
The details required to determine a site's viability go far beyond its location and dimensions. The developer must first determine who the land belongs to, and what they paid for it, which means tapping into Land Registry data, potentially for dozens if not hundreds of properties or plots of land.
Next, a developer must research the planning permissions and constraints of a site, not to mention the approval rates of planning applications for the surrounding area. This is where things get even more challenging – this data lies with local councils, or multiple councils when searching over a wider area, which can make it difficult or time-consuming to obtain.
After days spent sourcing and manually compiling this data, the developer finally has a clear picture of the viability of the potential sites they have had their eye on. And if those sites come up short, the whole process has to
start over again.
A better way of doing things
Clearly, any approach that is reliant on offline processes is not sustainable. Indeed, after working in the development and planning sectors for several years, I saw first-hand the constant struggle of developers to keep their pipelines full of potential new sites; it consumed a disproportionately large amount of their time and resources.
This issue is more pronounced for smaller developers, given their more limited resources, which is a cause for concern.
Spinning gold
Finding high-value off-market sites that have been overlooked by others is crucial for smaller developers in need of a competitive advantage. The solution, then, is to bring together all the necessary data in one place so developers – including SMEs – can make considered, strategic decisions that keep them competitive in a ruthless market.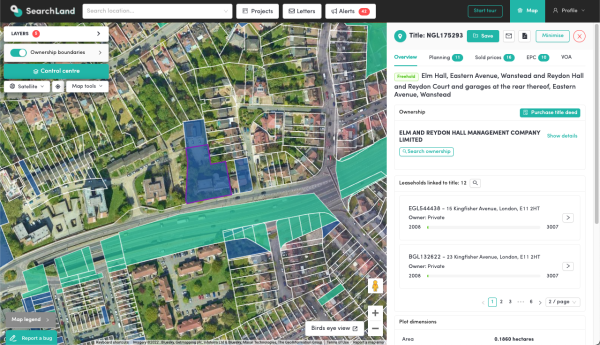 From land ownership titles and transactional prices, through to the use of properties and local planning permission records, developers must be able to quickly and easily access the information they need to find ideal sites. When layering disparate datasets on top of satellite maps, this task becomes painless – from thousands of regional locations, a developer can in minutes arrive at a mere dozen that match all the necessary specifications.
In short, it is a matter of digital transformation – taking the cumbersome old methods and bringing them into the 21st Century. Searchland was created with this in mind, enabling developers, architects and investors to source sites more effectively through data-driven decisions. It's one of a number of PropTech land sourcing solutions aimed at levelling up the playing field for SME developers.
We're in the midst of a technological revolution that will not just provide a shot in the arm to SME developers, but also provide a boost to society and the national economy. After all, the UK is in dire need of housing to meet ever-increasing demand, and we must find creative solutions that allow the right land to be developed on.
Having access to data is no longer an optional indulgence for developers – it has become an essential operating tool in the struggle against the housing crisis, and in supporting the future health of the industry. By transforming the site sourcing and development process, big data has the future of the UK property market in its hands – we must make sure everyone can get it.