News and Updates from across the UTBiverse
'Best Secured Loan Lender' two years running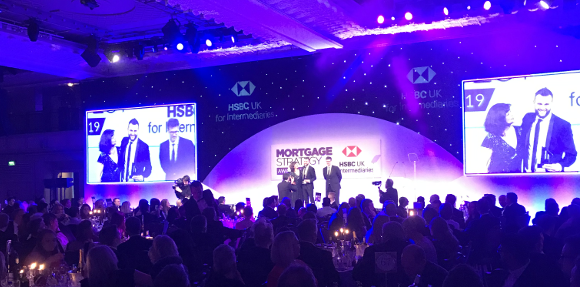 United Trust Bank won yet another award for its second charge mortgage product bringing its tally to nine winner's trophies since launching into the specialist mortgage sector in 2016.

UTB was named 'Best Secured Loan Lender' at the 2019 Mortgage Strategy Awards held on the 26th March 2019. It's the second year running the Bank has been named the top lender for second charge loans by the Mortgage Strategy awards judges.

Buster Tolfree, Commercial Director – Mortgages, United Trust Bank, commented: "I'm delighted that we have won this award for the second year running. Having made a positive impact when we first entered the market, we've all worked extremely hard to keep improving our service and our products and to champion secured loans in the minds of brokers and consumers. "This award vindicates the effort put in by the whole team and the tremendous support we receive from our Master Broker, Packager and introducer partners. My thanks go to everyone who has helped us achieve this second victory and promise that there will be more exciting news to come from UTB this year!"
UTB lends its way to a successful year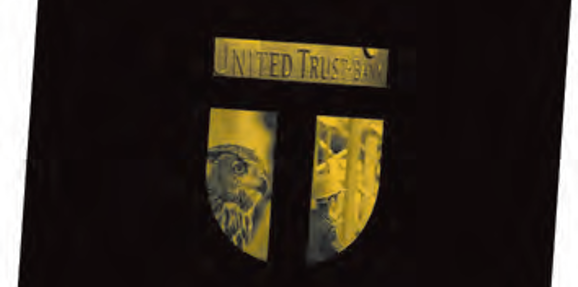 UTB lends its way to a successful year

United Trust Bank's 2018 results indicated another strong performance driven by sustained growth in lending and effective cost management.

The Bank grew its loan book by 20.0% to £1.034bn and returned a 21.9% increase in Operating Income to £61.2m. The 19.3% increase in profit before tax to £31.4m is more than double the figure posted in 2015 and the key measure of Return on Average Equity was an impressive 22.3%.

Chief Executive Officer, Graham Davin, commented: "UTB had an excellent year despite considerable economic and political uncertainty. Our lending and deposit books both exceeded £1billion and although we incurred additional expenses associated with the creation of our new Motor Finance division, our cost income ratio of 43.9% reflects increasing scale effects throughout the business and most particularly the Mortgage division. "I would like to thank our customers and brokers for their support and to all our staff, across all departments, for their contribution
towards achieving these results. Notwithstanding the economic and political headwinds, we are planning for another year of growth and
solid returns and I am pleased to say that 2019 has got off to a promising start." The Bank's Report and Accounts for 2018 can be found on
our website.
UTB – On the road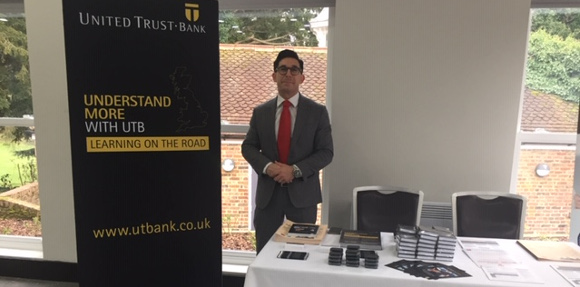 Staff from United Trust Bank have attended and presented at a variety of industry roadshows, round tables and conferences in the last few months with more already planned for the rest of the year.

In addition to the Bank sending a large delegation to MIPIM (more about that on page 13), Paul Turton presented at the Federation of Master Builders (FMB) Eastern Conference in October and has taken part in their round table events this year. UTB sponsored the Home Builders Federation Policy Conference in March with Noel Meredith and
Paul Turton attending on behalf of the Bank. Buster Tolfree and Mike Walters from the Mortgages & Bridging Division led a presentation on the place for Fintech in specialist lending at the Mortgage Solutions Specialist Senate in March. The 'invitation only' event was attended by over 40 of the industry's most senior and influential figures.

Martin Sims, Kerry Bradley, Nick Warren and Paul Delmonte have also informed and educated brokers and introducers on our range of specialist mortgage and bridging products at several events with Financial Reporter and the Ingard Training Academy and Gavin Diamond is taking part in a Bridging & Commercial short term lending round table in April. Look out for UTB 'on the road' at more events throughout this spring and summer.
AVISON WARREN JOINS UTB AS MORTGAGE OPERATIONS MANAGER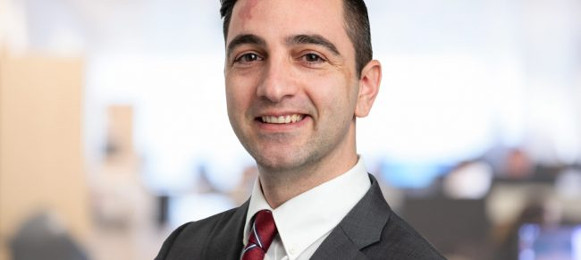 Warren has been appointed to the newly created role as the Bank prepares for the development and launch of various new products and the diversification of its distribution. He will be focusing on the successful delivery of fin-tech and digital solutions projects, alongside process improvements within the Banks Introducer-led proposition.

Avison has joined UTB from Accord Mortgages where he was Operations Manager for Lending Shared Services and responsible for the new lending
department including oversight of 100+ staff across manager, mortgage underwriter, administrator, performance coaching and process improvement personnel.

Buster Tolfree, United Trust Bank Commercial Director – Mortgages, commented:"Avison brings a great deal of real-world experience in delivering significant IT and change projects in a high growth mortgage business. His skills and knowledge make him a valuable addition to the team of recognised industry experts we've brought together at UTB to enable us to move our mortgage business up to the next level. "We are investing in great people and creating cutting edge digital solutions to enable us to continuously improve our offering to brokers and customers. I'm looking forward to revealing more of our plans as we progress through 2019 and I could not be more excited about the next chapter of UTB's mortgage story."
One more for the trophy cabinet!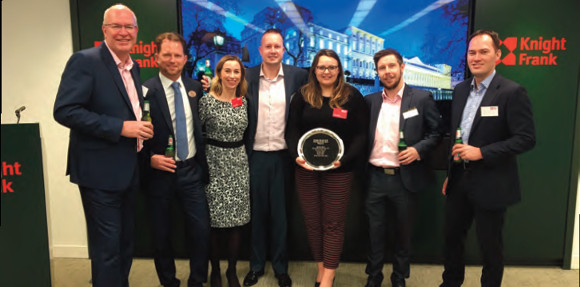 A team from UTB's Property Development division were delighted to put their general knowledge to good use at the annual Knight Frank Property Professionals Quiz.

The team comprising of Phil Bird, Gary Smith, Luke Benton-Drury, Derek Budd and Knight Frank team member Matt Connor competed against seventeen other teams from the banking world over 8 rounds of testing questions on everything from pop music to general knowledge. After an exciting final chase to the finish, Team UTB were triumphant, carrying off the coveted trophy. Phil Bird, UTB Property Development Manager, said: "Knight Frank put on a really good quiz and an entertaining evening and it was a great opportunity to catch up with peers from around the industry and beat them! It was a team effort with everyone making a significant contribution in achieving UTB's first victory and we look forward to defending our title next year."