Paul Turton, Head of Sales – Property Development
Building close ties with developers enables us to help them accelerate their business growth
United Trust Bank builds strong relationships with its developer customers, in some cases dating back decades. Over time, the Bank has supported their growth by funding increasingly larger projects and usually several developments at the same time. As the outlook for the UK economy remains uncertain, the advantages of strong lender-developer relationships are clear as housebuilders continue to seek substantial aggregated funding lines through the ups and downs of the economic cycle. We also understand that development sites are often like buses – you wait ages for one to come along and then three turn up at once.
Timing is always an important issue with our developer customers as most of them don't have the luxury of having large cash reserves sitting in their bank accounts. For many, the majority of their capital is tied up in their current schemes. This is the reality for most SME house builders and we like to accommodate and enable the next project, even if the developer's hard earned equity is tied up completing their existing projects.
For example, we were approached by a longstanding customer to fund an office to residential conversion of two separate buildings. Together they would create 74 apartments and 18 new airspace / rooftop units. With works nearing completion and sales underway, the borrower identified two further opportunities of interest close to the current sites. Following negotiations, UTB agreed to provide equity release from the existing schemes under separate Sales Period funding facilities which formed the borrower's cash contribution towards the acquisition of the two further buildings.
The new projects were then secured with Acquisition finance which allows our customer the time to maximise the planning potential of these new schemes. The first of the new projects is now underway and will create 10 mews houses within the frame of the existing building. The second project is in detailed design and projected to deliver a further 47 apartments under permitted development rights.
At any one time the Bank has provided Acquisition, Development and Sales Period funding solutions to this customer totalling c£27.5m across four overlapping development projects providing a total of 149 new homes. On a smaller scale, a successful architect turned developer, was completing the conversion of an existing barn property into six homes whilst at the same time building a single large detached house on a separate scheme. UTB was funding both projects and when the opportunity to acquire a further site arose, the developer contacted us to discuss funding and to request a release of equity from his existing projects in order to raise sufficient cash to secure the new site.
Although neither of the ongoing developments were at practical completion, which is usually a requirement for releasing equity, we took account of our long-standing relationship and decided to take a pragmatic approach to the situation. In this respect, both the existing builds were progressing on schedule and on budget and there was already strong interest being shown in several of the barn units. When the case was presented to the Bank's Credit Committee the request for additional funding taking the facility to £4.4m was approved.
The equity released from the current developments enabled the borrower to secure the new site, a scheme with planning for four houses. We then provided a new facility which would contribute to 50% of the remaining site purchase price and the full construction costs, professional fees and rolled up interest.
By adopting a flexible and supportive approach we enabled our customers to secure their next projects and ensure that they would not be hanging around for their next sites to come along.
UTB and Barwood Capital team up on historic barn conversions
UTB and the UK regional real estate specialist, Barwood Capital are jointly funding the acquisition and conversion of historic barns in Sutton, Bedfordshire into three luxury homes by developers Resolution Homes. The project has an estimated GDV of c£2.6m with the largest of the three conversions, providing more than 3,000 square feet of living accommodation and expected to sell for in excess of £1m.
Resolution Homes is an existing client of United Trust Bank with a demonstrated track record of delivering high quality, successful developments. UTB most recently funded its development of 13 apartments in Buckingham, which has now been sold.
In what is the first joint funding together, Barwood Capital's Residential Investment Platform has provided the equity investment, with the balance through UTB, for c£1.6m of acquisition and development funding for the Sutton barn conversions. Work has just commenced on the site.
Phil Bird, property development manager at United Trust Bank, said: "We are delighted to once again support Resolution Homes with their latest project and we were very happy to work with Barwood Capital in providing funding structured to meet our mutual customer's requirements. We look forward to the delivery of another successful development from Resolution Homes and to working with Barwood Capital again in the future."
Steve Chambers, director of Barwood Capital, said: "While Resolution Homes is an existing development partner, the joint funding partnership for this Sutton project is our first with UTB. We have been impressed with the UTB's professionalism and commerciality to provide additional funding for the project."
Eddie Lawley, director at Resolution Homes, said: "We are delighted to have secured the joint support of UTB and Barwood Capital on this project and look forward to working with both Phil and Steve over the next 12 months or so as this development progresses. We see this as a further important step in the evolution of Resolution Homes and consider the partnership arrangements we now have with UTB and Barwood to offer good foundations from which to continue to grow our business."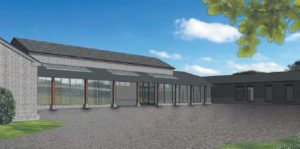 UTB supports major redevelopment project in Peterborough city centre
UTB is working with Pilot Fish and Iron Bridge Finance to fund the £22m redevelopment of Bayard Place in central Peterborough by The Brightfield Group.
Pilot Fish sourced £11.1m of senior debt from UTB, £2.7m of mezzanine funding from Iron Bridge and further funding from Pilot Fish's Investors Club, a private investment platform for HNWIs.
Bayard Place is an office building in Peterborough City centre with 61,634 sq. ft of accommodation over the ground and upper four floors. The building was formerly owned by Peterborough City Council who were in the process of a large-scale office relocation. Brightfield Group obtained permitted development for 88 units and sought planning for an additional 14 penthouse, duplex apartments on the upper floors. This project will transform an iconic building and have a significant impact on the regeneration of the city centre.
The development is due to complete in March 2021. Richard Jones, Managing Director, Pilot Fish "We approached UTB and Iron Bridge because we know that they have the appetite and ability to deliver deals of this size at market competitive rates. They worked in collaboration with the client, each other and us to deliver the deal on time and in line with the initial terms offered'
Martin Gilsenan, Managing Director – Sales, Iron Bridge Finance "This is an innovative and exciting development and it was a pleasure to be involved in this transaction. The professionalism and the strong relationships between all parties was first class and we look forward to further projects together."
Luke Benton-Drury, Senior Manager, Property Development, United Trust Bank  "We were pleased to support this prestigious development by The Brightfield Group which will help to transform Peterborough city centre. We have established strong relationships with all the teams and together we were able to structure funding which met the developer's requirements. We look forward to working with Pilot Fish and Iron Bridge Finance again on future projects