Gavin Diamond, Commercial Director – Bridging
Our longstanding partnership with successful property developer Bruce Burkitt of propertyexperts.co.uk
Our customer, Bruce Burkitt, is a successful property developer with over 30 years' experience in the industry. He has purchased and developed over 700 units, many of which he has retained for his own multi-million pound portfolio, and he is a regular commentator on property development in the media. Bruce and his team also work closely with HNWI investors for whom they source development, refurbishment and investment opportunities. Bruce also shares his expertise by providing mentoring sessions to those wishing to forge a successful career developing, investing or trading in property.
With sales completing on a 7-flat scheme in Croydon that UTB had successfully financed for him on a short-term property improvement facility through the bridging team, Bruce returned to discuss terms for his latest acquisition in Kenley, Surrey. Built in 1906 and occupying a half acre plot, Bruce recognised potential for the property to be converted into multiple units. However given its location on a private road of mainly single dwellings and with an authoritarian residents' association in place, he acknowledged that a sympathetic design and considered approach would be required.
Bruce's market research highlighted that whilst many residents wished to sell and downsize locally there was a distinct lack of apartments for sale. With this in mind his team set about designing a scheme to extend and convert the existing property into luxury apartments targeting the "grey pound" and featuring a lift, private gardens and ample parking.
Although it was felt that the property would lend itself for conversion into 8 units and a coach house, Bruce elected to initially establish the principle for conversion by submitting a 'low impact' scheme for 7 units which enabled him to secure planning consent on first application. Having secured the right to commence building works, Bruce submitted a second planning application for an 8th unit which has just been recommended for approval. Plans are currently being finalised for conversion of the existing outhouses and garages to form an additional two-bedroom detached coach-house. Despite continuing economic and political uncertainty, Mr Burkitt remains positive about the property investment business. He commented: [pull_quote]"Now is an excellent time to invest if you have the correct strategy in place. Any purchaser must possess day one equity and have the potential to add value to it by way of extending or converting.[/pull_quote] Ultimately the numbers must allow you to achieve a premium finish and to be able to market the property at a competitive price in order to attract a buyer."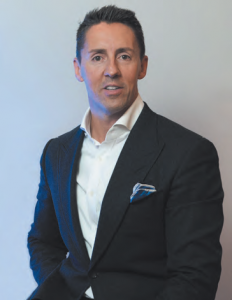 Bruce frequently employs bridging finance over other funding options, especially when speed is important, and finds UTB to be a quick and dependable finance partner. He continued: "It's still very much a competitive and fastmoving market and the speed at which bridging finance can be arranged with a lender like UTB is crucial to negotiating purchases and ultimately delivering a successful project. I must be able to act quickly when I find an opportunity.
"As well as being quick, UTB always look for ways to do deals rather than reasons not to. They are commercially minded and will think outside of the box to structure a facility which works for all sides. They are supported by great lawyers and work with professionals who are committed to getting transactions completed on time and with the minimum of hassle.
"Having a strong relationship with a lender like UTB and being able to talk to experienced people like Gavin and his team at any stage of the transaction gives me the confidence to act decisively. That definitely contributes to the success of a project."
Gavin Diamond, Commercial Director – Bridging, at United Trust Bank said: "We enjoy working with experienced property professionals like Bruce and his team and we do our best to provide the funding he needs when he needs it. Bruce operates in markets he knows extremely well, and his track record is testament to his ability to identify and deliver successful developments. He is expert at unlocking the potential in properties through planning gain and then delivering a high-quality end product on time and on budget
"It's not unusual for Bruce to have several projects in play at the same time and that can sometimes mean being creative about securities and loan structures. For example, it is usually advantageous for Bruce to provide us with multiple security properties, which allows him to retain cash so he can move quickly when opportunities present themselves. At UTB we have the knowledge and ability to provide facilities which meet his requirements, making our relationship with Bruce a strong and successful one. We look forward to continuing to work with Bruce for many years to come."
UTB launches dual legal representation for bridging loans
Although dual legal representation is common in mortgage conveyances, it is seen as a big step forward in simplifying the legal process for bridging loans. It can facilitate transactions being paid out much more quickly and deliver a significant cost saving for the borrower.

At present there are two legal firms on UTB's dual representation panel; JMW and Lightfoots Solicitors. JMW acted in the first dual representation bridging case completed by UTB which
was introduced by SPF Short Term Finance.

Michael Walters, Head of Sales – Mortgages & Bridging at United Trust Bank, commented:

"Dual legal representation provides a significant cost and speed benefit to bridging customers, and service improvements like this are important for growing the bridging market. I'm sure many bridging customers will benefit from dual representation in future, especially now this facility is available via all introducers to UTB.

We are continuously looking for ways to enhance and improve UTB's bridging offering both in terms of products and service and enjoy working with likeminded partners in developing these kinds of enhancements. We look forward to implementing further innovations in the future."

Amadeus Wilson, Director at SPF Short Term Finance,

said: "Working with UTB and JMW Solicitors on the pilot was a great success. Not only was the client extremely satisfied with the reduced cost of using dual representation, but the speed and efficiency of keeping everything under one roof was invaluable, leading to a swift completion and all-round client satisfaction.