A new 'Brexit' poll of over 150 finance brokers operating in the fields of bridging, development finance, asset finance and mortgages has revealed that if broker views are anything to go by, the outcome of the European Union referendum rests on a knife edge.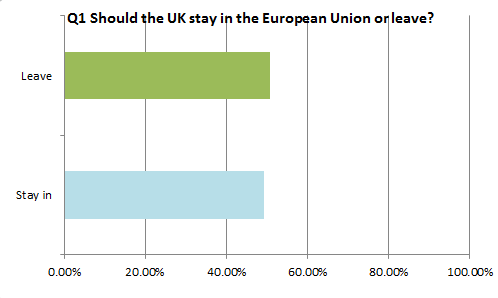 The new poll, carried out in April by specialist lender United Trust Bank, has found that 50.7% of brokers intend to vote to leave the EU in the referendum on the 23rd of June, whilst 49.3% will vote to stay in.
In a further question, 21% of brokers indicated that they believed leaving the EU would have a positive effect on their business as opposed to 31% who saw it as a negative. 48% of respondents thought that leaving the EU would have no effect on their businesses at all.
Harley Kagan, Managing Director of United Trust Bank, commented:
"It would appear that the finance broker community are just as divided as the general public when it comes to the European Union. With just one month to go before Great Britain makes the biggest decision about its future in nearly 50 years, the results of this poll add to the uncertainty.
"What's interesting though is that nearly half of brokers believe the outcome won't make any difference to their businesses and that just 1 in 5 see leaving the EU as having a positive effect. There have been conflicting arguments from both sides on how the UK economy will fair if the 'Leave' vote wins, but whatever the result, it will be good to have some clarity over what lies in store for the UK so that decisions which have been put on hold pending the outcome can be taken. Many people are adopting a 'let's wait and see' attitude at the moment which is leaving many businesses in limbo."