Six out of ten brokers are increasingly considering whether they and their customers can rely on lenders when placing new business, a new survey has found.
The recent broker sentiment poll, carried out by United Trust Bank, asked brokers operating in the property finance and asset finance sectors if the stability and reliability of lenders was a factor when placing new business and nearly two thirds (60%) of the 146 respondents indicated that it was. 36% said 'No' and the remaining 4% didn't know.
Q – Are you increasingly considering the stability and reliability of lenders when placing new business?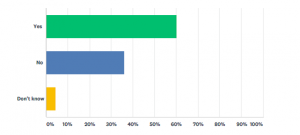 Harley Kagan, Group Managing Director – United Trust Bank, commented:
 "In uncertain times it's natural that brokers and intermediaries want complete confidence that the lenders they recommend to their clients are going to deliver the funds and the service they've promised.
"Many brokers know from past experience that in challenging markets some lenders may try to change their credit decisions whilst others have difficulty delivering a prompt service or releasing funds on schedule. It only takes one or two examples of a lender changing a deal for that to knock a broker's confidence in the lender and the customer's confidence in the broker.
"UTB have always been a reliable, stable and responsible lender, in a market for the long term and providing support to our broker partners and our borrowers when they need it most."