UTB's high value car business grew significantly in 2021 following a conscious decision to recruit salespeople and underwriters who really understand the sector. As a result, one broker more than quadrupled the value of deals they completed with UTB last year to become one of the Bank's biggest introducers of Asset Finance business. This broker has served prestige car dealers and high net worth individuals for over 30 years, delivering competitive solutions and a fantastic service through a winning combination of time saving technology and a deep knowledge of the market.
The winner of the UTB Partner Recognition 'High Value Car' Award is DSG Finance.
Presenting the award, United Trust Bank's Paul Barter said: "We enjoy working with brokers who are at the top of their game and Tim Marlow and his team have built an enviable reputation over several decades as a go-to broker for drivers funding performance, luxury, classic and supercars. Although I've worked with DSG for around four years we really saw the true potential of the partnership flourish when Giles Hussey became their dedicated underwriter in UTB's Credit team. That close relationship helps to get cases approved quickly and more complex deals over the line. In fact, we're on such good terms, UTB are funding DSG's move to replace their company car fleet with Teslas by providing a £600k credit line.
Tim and the team understand what we can do for their customers, especially when they need a quick decision and speedy pay-out so for their strong support of UTB's expansion in the sector and their unstinting commitment to delivering first class customer service that I'm delighted to be presenting DSG Finance with this award."
Tim Marlow, of DSG Finance said: "I was delighted when UTB announced they were increasing their appetite for high value car business and the volume we have put through the Bank has grown substantially. UTB have always stood out as a service driven funder and having direct access to underwriters, more specifically Giles in our case, has been an extremely important differentiator, particularly when the deal requires more consideration and expertise, but we still need a quick decision. I'm looking forward to seeing what we can achieve together in 2022."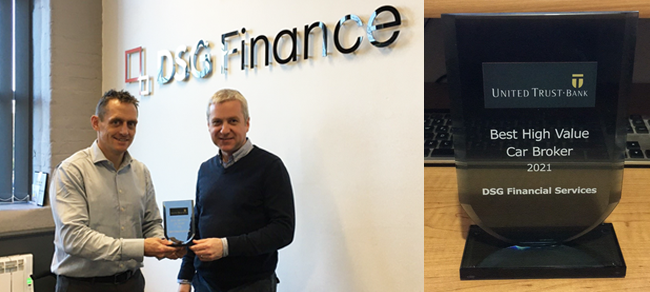 Tim Marlow of DSG is pictured above receiving the awards from UTB's Paul Barter.
Case study
DSG's customer was purchasing an Aston Martin Vanquish V12 and although the festive break was fast approaching, he was very keen to pick it up before Christmas. The paperwork arrived on the 23rd December and DSG together with UTB's outstanding Admin team prioritised the deal and pulled out all the stops to get it paid out on Christmas Eve before both offices closed for the Christmas break. Just before 2pm the funds were released, and the delighted customer collected his slightly early Christmas present.