The Coronavirus is now having a profound impact on our daily lives and I hope you and your family are following the Government's social distancing directives by staying home and staying healthy.
We understand that many of you will be worried and possibly facing the next few weeks, or even months, with significant disruption. Whatever challenges you face, I want to reassure you that the team at United Trust Bank is committed to supporting our customers through this difficult time.
Most of our staff are now working remotely or working in shifts to adhere to the Government's latest instructions and reduce the time they have to spend away from their homes. Unfortunately, this is putting additional pressure on our telephone services and this is frustrating for those who need to speak to us urgently.
At the moment the best way to get in touch with us is via the contact form here and one of our team will respond as soon as possible.
We are continuing to lend across our property, mortgage, asset and motor finance divisions. As such, our customers are still receiving dependable decisions on their loan applications.
Our thoughts are with those families directly affected by this dreadful virus and we are grateful to the heroic medical staff, emergency personnel and other key workers who continue to work and maintain our most essential services. I would also like to thank my own staff for their fortitude and commitment to serving our customers in these exceptional circumstances.
Yours sincerely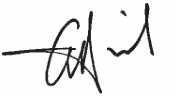 Graham Davin
Chief Executive Officer
We hope you all remain healthy and well. You can find government guidelines and advice here