68% of brokers are banking on a Clinton win in the upcoming US Presidential election, according to a survey carried out by United Trust Bank.
The survey, which received over 160 responses, asked brokers working in the fields of asset and property finance, which of the two candidates, Hilary Clinton or Donald Trump, would be more beneficial to the UK economy should they be voted into the White House. Nearly 7 out of 10 respondents chose Clinton.
Which candidate would be most beneficial to the UK economy if they won?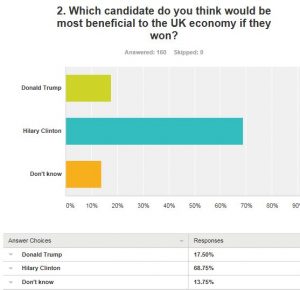 The survey also asked brokers who they thought would win the election and nearly three quarters (74%) of brokers thought that Hilary Clinton would poll the most votes on the 8th of November.
Who do you think is going to win the US Presidential election?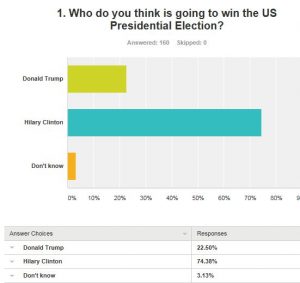 Harley Kagan, Group Managing Director of United Trust Bank, commented:
"Earlier this year, when we asked brokers which way they'd vote in the EU referendum, our poll turned out to be an accurate reflection of the actual result – 51% Leave to 49% Remain. This new poll would seem to suggest that if UK finance brokers were voting in the US Presidential election, that Hilary Clinton would be heading for a landslide victory. However, although most US polls indicate that Clinton has the lead, it's nowhere near the divide our brokers predict.
"The US election adds yet more uncertainty to that created by our decision to leave the EU and a win for Donald Trump would almost certainly increase levels of uncertainty as he's the more maverick and untested candidate out of the two."
"Whatever the outcome, we must accept that change is something we're going to see a lot of over the next few years and we should remind ourselves that we have a pool of vibrant, talented and entrepreneurial businesses in the UK which will still need our support to keep pushing their businesses forward."